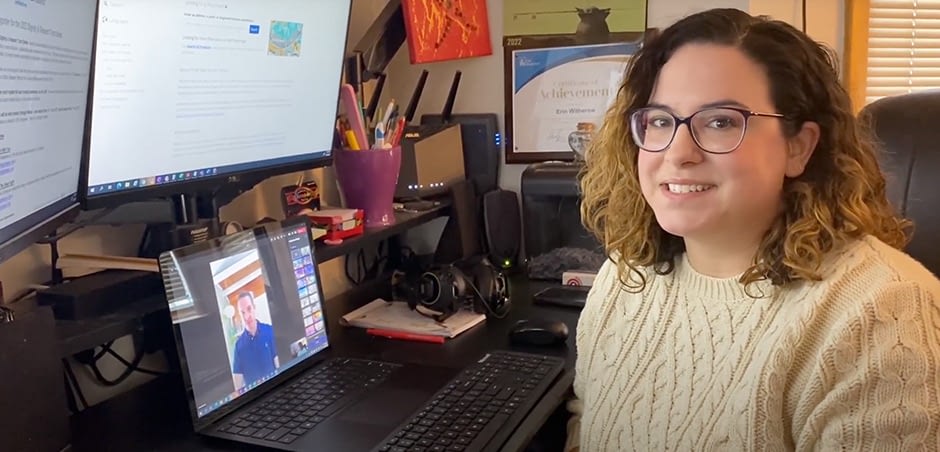 If you've seen the term "underwriter" and were never quite sure what it meant, you aren't alone.
Underwriters are often referred to as the engines of the insurance industry. As a customer, you won't interact or see them much, but they are the behind-the-scenes experts on all things insurance. Without underwriters, insurance companies wouldn't be able to insure anyone.
We asked four underwriters at different levels of ERIE what their day-to-day jobs looks like. Here's what they had to share.
What is an Underwriter?
To break it down, an underwriter is someone in the insurance (or finance) industry who underwrites policies. Through research and analysis, an underwriter determines the risk associated with someone looking to purchase insurance.
For example, if a restaurant owner is looking to insure their business, an underwriter would research all the risk associated with their business. This might include things like fire hazards, age and size of the building; if there are any precarious trees nearby; or how many customers they serve in a day. All of these factors help determine how much and what kind of insurance they would need in case of a kitchen fire or if someone tripped and fell in the restaurant.
"Ultimately, underwriters decide what to insure, what coverages to offer and can help determine prices on occasion," says Matthew Brown, commercial underwriter. "I actually really like the research aspect of it. And ERIE offers a lot of tools to get the job done."
What's a normal day look like for an underwriter?
Many underwriters will spend their day collaborating with the claims, risk control and sales teams, as well as other underwriters, in order to create an insurance policy.
"Much of the day is spent collaborating with my underwriting team," says Karen Kocjancic, underwriting manager. "One of my favorite parts of my job is collaborating with my underwriting team and coaching them to succeed."
A big part of their job is working closely with ERIE's independent agents, answering calls and emails regarding any new customers they are looking to insure. But at its simplest, an underwriter's day can be broken into two parts: new business and renewals.
New Business: New business is where an underwriter's love of research shines. They work with an ERIE agent to understand the client's insurance needs and risks so they can compile a list of coverages the customer needs, including those required for their region or account type and then can determine an appropriate price.
Renewals and re-underwriting: If you have a sharp eye for small details, re-underwriting may be one of your favorite aspects of the job. Re-underwriting is looking at accounts already insured with ERIE and checking to see if there are any new risks or exposures that need to be accounted for. Like if a customer recently got a swimming pool installed, they might need some extra coverage.
Hear from Erin, an ERIE underwriter, on how her typical day passes by.
What kind of background do you need to work in Underwriting?
Common qualities of a good underwriter include a keen attention to detail and a love of math or research. Many underwriters have degrees in finance, business or economics when they first start out. As they grow their career, they can earn additional insurance certifications like the Chartered Property Casualty Underwriter (CPCU) or an Associate in Personal Insurance (API).
At ERIE, we have an underwriting trainee program that helps to train individuals interested in this career path. From there you are placed in an underwriting division and can grow your career or advance to a career in leadership.
What's it like working at Erie Insurance?
Our employees are what make ERIE such a great place to work. Our culture is one of the many reasons people choose to work, and build their careers here. Our company was built on the Golden Rule, and we support each other and our local communities through charitable giving and volunteering efforts. Employees are even allowed to spend up to 9.5 hours per year of their workday volunteering in their local communities.
"One aspect of ERIE that I truly enjoy is being able to give where we live," says Karen. "Over the years I've had the privilege to work on a couple of Habitat for Humanity home builds with my ERIE team and was literally swinging the hammer with the prospective homeowner – extremely rewarding."
Our culture is shaped by the many unique employees we have and their diverse thoughts and experiences. Our Affinity Networks and Employee Resource Groups help engage and empower our employees to create an equitable and inclusive work environment.
Join the ERIE Team
At ERIE, we work together to make each other's day better as well as our customers'. Learn more about what makes ERIE a great place to work and what makes Erie, PA a great place to live. Interested in jumpstarting your career at ERIE? Join our team of underwriters and view our current job opportunities.