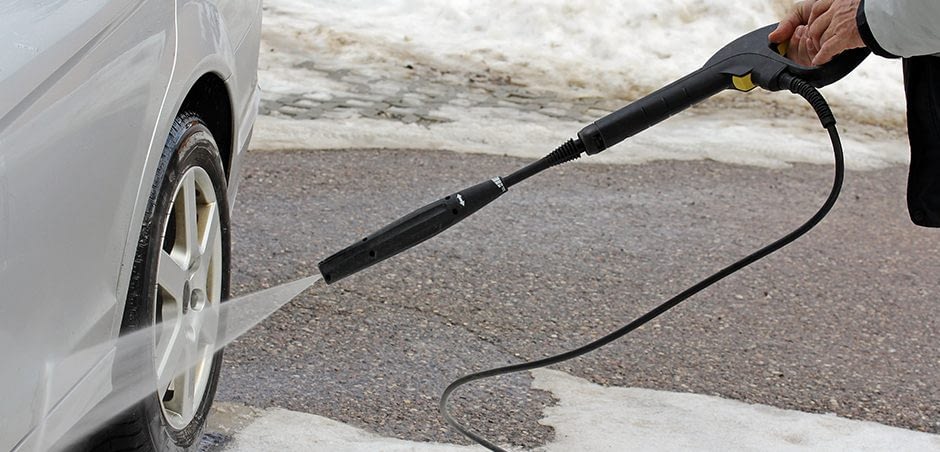 Should you wash your car in the winter? The short answer: Yes.
While you may skip them because it's nearly impossible to keep a car looking clean in winter, road salt and other ice-melting chemicals used to keep our roadways safe can cause rust and corrosion on your vehicle—with fuel lines and brakes being the most susceptible to damage.
But washing your car in the winter can come with its own challenges, like cold weather freezing your doors shut. We answered some common questions about winter car washes and other ways to keep your car clean this winter.
Tips to Keep in Mind if Washing Your Car in Cold Weather
How cold is too cold for a car wash?
Skip the wash if the temperature outside is below 32 degrees Fahrenheit. Water that hits your car when the air is too cold (like below freezing) could lead to frozen locks and door handles. It's important to let your car dry thoroughly so water doesn't get stuck and freeze. Consider using a car wash with a dryer or wiping your car with a microfiber cloth if you're at home.
Even if it's not below freezing, road salt will stick to a wet car, undoing the benefits of the car wash. So make sure your car has time to dry before taking it out for a spin.
What do I do if my car freezes up?
If water does sneak its way into your door and freezes your locks, don't just start pulling frantically. If you can, remote start your car and let it warm up. You can also try using a de-icing fluid from your favorite auto shop. It often comes in a spray bottle to fit in cracks and even helps to prevent moisture from causing future freezes.
If you know that freezing rain or sleet is coming, spray a little cooking oil on your car door's rubber seals to help prevent them from freezing shut.
How often should I wash my car in the winter?
The answer really depends on your local climate and how often you drive. If you're driving your car every day, a weekly car wash might be best to keep the salt away and your windshield clean. However, if you aren't driving as frequently, you might be able to stick to a monthly car wash. Pro tip: add a car wash into your weekly or monthly errands, so you're sure to get things clean on your schedule.
How do I wash my car in the winter?
If going to a touchless car wash isn't in your budget or timeframe, you can always give your car a sponge bath. If you have a garage, take a handful of sponges or microfiber towels and scrub away the grime. You can also test out "waterless" car wash products to help keep your car's exterior clean and polished.
Can I wax my car in the winter?
Consider getting a protective layer of car wax to help shield your car from road salt before the weather turns. Once the temperature drops below 50 degrees, a fresh car wax won't be able to set and dry properly. If you waited too long, you can still get a wax – just have the job done indoors or on a warmer day.   
How can I help my car recover from winter?
Winter can be pretty hard on your car. From your wiper blades and brakes working overtime to your salt-stained floor mats, there's a handful of items to add to your spring cleaning list. Consider getting a rust inspection and an undercarriage deep clean to restore your car's luster. For more spring car maintenance tips, you can view our top eight must-dos. 
We've Got You Covered
Old Man Winter is no car's friend. But with a little extra care, you can protect your car and the investment you have in it. And even on the coldest days, you can count on your auto insurance with ERIE. Our agents live in your neighborhood and know the weather your car powers through. Contact us today to see what coverage options fit your need.