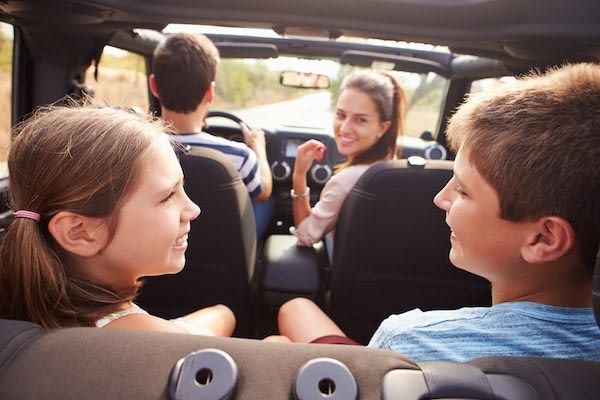 Longer days, warm, sunny weather, and roads free of snow and ice make summer the perfect time for vacation road trips. In fact, Insurance Institute for Highway Safety (IIHS) statistics reveal that more fatal traffic crashes occur over the summer months than over the winter months. Contributing factors to the increase in serious accidents during the summer include congested roads due to vacation travel with the added risk of more road construction occurring with warmer weather.
If you are planning a drive for your summer vacation, it makes sense to be prepared for the unexpected. Follow these driving tips to help ensure a safer summer road trip:
Check Your Tires
Well-maintained tires can give your vehicle better handling and greater fuel economy and help prevent avoidable crashes and breakdowns. Check the tread on your tires before you start on your trip, and replace them if needed. Keep tire pressure at the level recommended by the manufacturer for optimum fuel efficiency and greater safety.
Pack Light
The owner's manual for your vehicle will give you the maximum cargo and passenger weight it can safely carry. Don't exceed payload capacity! Also, pack your vehicle in a way that does not obstruct your view through any window.
Manage Summer Allergies
Many people suffer from allergies, particularly in the summer months. Allergy symptoms such as watery eyes, sneezing, congestion, and exhaustion are dangerous when you are driving. Manage allergy symptoms during your summer road trip, but make sure your allergy medication does not cause drowsiness, as many over-the-counter allergy meds do. Talk to your doctor or pharmacist about an allergy medication that will not impair your energy or alertness.
Handle the Glare and Heat
Glare can interfere with your view of the road, and the summer sun can cause dehydration on a long road trip. Wear sunglasses and use a sunshield to keep the interior temperature down while your car is parked. Never leave a child or pet in the car unattended, and always travel with plenty of water to stay hydrated.
Use Caution in Summer Storms
Summer showers are a frequent occurrence in many areas of the USA. It is important to be alert when roads become very slippery in the first few minutes of rainfall when water mixes with accumulated oil and dirt. It takes approximately half an hour of steady rain for the dirt and oil to wash off the road.
Make Sure You Are Covered for Your Summer Vacation
Summer vacation is time to de-stress, relax with friends and family, and enjoy the open road. Unfortunately, it is also the time of year when more traffic accidents occur. Having the right auto insurance can give you peace of mind, knowing that you are fully covered in the event of an accident during your vacation, no matter where you travel.
Safe drivers with experience and a good driving record typically qualify for lower rates on the best auto insurance coverage. Many people lower their rates by combining automobile coverage with homeowners or other insurance policies. Our agency can help ensure that you have the coverage you need for a worry-free summer vacation.