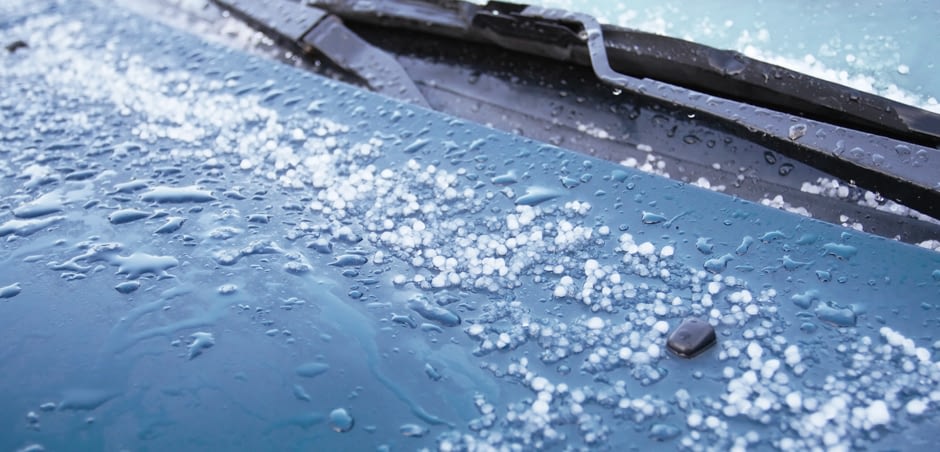 We've all experienced it at some point.
Dark gray clouds form ominously above. Thunder rumbles and lightning claps. Rain falls in heavy sheets. And then, the sky opens for Mother Nature's angry ice dispenser.
Ranging from the size of a pea to the size of a grapefruit, these ice stones can wreak havoc on fields, livestock, buildings and homes. They can also total—yes, total—a vehicle if the conditions are right.
You may be asking yourself, "What can I do to be protected?" Below, we break down what you need to know about hail damage and vehicle insurance, ways you can be proactive to protect your vehicle, and what you should do if you ever find yourself on the roadway during a hailstorm.
Does Car Insurance Cover Hail Damage?
Short answer: Yes, if you opt to include comprehensive insurance on your car insurance policy.
As one of the two types of optional physical damage coverage (collision insurance being the other), comprehensive coverage protects against losses that are caused by something other than a crash, such as theft, vandalism, fire and many weather events—including hail damage.
Because comprehensive policies usually have a deductible, it's recommended that you only choose a deductible that you feel you can pay if a claim were to arise. A local insurance agent near you can help you decide which deductible is best for your unique needs and financial situation.
See also: How to Choose a Deductible
What Damage Can Hail Do to My Car?
Hail damage can range in intensity from a few minor scratches and dings to shattered glass and widespread or severe body damage. In some cases, hail can even result in a total loss, depending on the vehicle's value. (Learn more about what it means when a car is "totaled.")
Harold Singh, material damage claims quality control manager at Erie Insurance, has seen his fair share of hail damage in his career. His team works closely with hail response teams, which are groups that are organized quickly after a storm to assess automobile damages.
"Most often, hail damage is repairable with paintless dent repair, or PDR," Singh explained. "This involves pushing the dent out from the underside or using special glue to pull from the outside. It was originally invented by auto manufacturers for assembly-line repairs after painting, but it was quickly adopted as the most effective and least intrusive repair to reverse hail damage."
Hail Damage Repair Cost
Singh adds that the type and amount of damage depends on the storm itself. On average, he estimated the amount of damage to a car after a hailstorm is $2,800. However, the severity of the damage depends on the severity of the storm.
"Some storms cause shattered glass and heavily damaged or warped panels, which can lead to above-average repair costs," Singh said. "Other storms do very little and leave very minor depressions in the vehicle panels, which is less expensive."
Learn more about what to expect with windshield and glass repairs.
How Can I Prevent Hail Damage to My Car?
Be proactive if you can. Sometimes hailstorms pop up without warning. But if you listen to the weather and learn of an approaching storm, move your vehicle into a garage or under cover as soon as possible.
What Should I Do if I Get Caught Driving in a Hailstorm?
Driving during a storm is already unnerving. But when hail starts to fall, the situation becomes a lot more distressing—and dangerous.
Follow these tips so that you, your passengers and your vehicle can make it through a hailstorm safely:
Stop driving immediately and pull into a safe place. Hailstorms already have the potential to cause considerable damage, and driving through one can make it even worse. If possible, look for a garage or a parking ramp for overhead protection. In a pinch, an underpass can even offer safety from the storm. Pull your vehicle out of traffic and to the side of the road before stopping. Then turn on your emergency flashers. Avoid parking in a ditch, where water may rise quickly. And don't park near any trees or power lines as they could be knocked down during the storm and can cause additional damage or injury.
Park your car at an angle. This makes it more likely that any hail will hit the front of your vehicle. Your windshield is reinforced to protect you from impact from rocks and debris, but your side windows are not. This makes them much more susceptible to hail damage.
Stay inside your car. Finding shelter for your car is great. But remember that your car is your shelter and protection. Stay inside until the storm passes.
Protect yourself. Lie facedown in your vehicle and cover yourself with a blanket (if you have one) to shield yourself from debris. Instruct your passengers to do the same, or help younger passengers as needed.
Stay connected. Tune your radio to the weather reports so you'll know when it's clear—and safe—to drive again.
How To Report Hail Damage
If your car is damaged by hail, report the loss to your insurer as soon as possible. With ERIE, you have your own personal adviser: your agent. He or she will discuss the details and provide enough information so you can make an informed decision on whether to file a claim. You never have to go it alone.
Looking After You
At ERIE, when we say we're with you, we mean you have our undivided attention when you need it, before and after the storm. We're here to understand when things go wrong, assess the impact, and help you get things back to normal right away. Learn more about car insurance from ERIE or find a local car insurance agent near you.