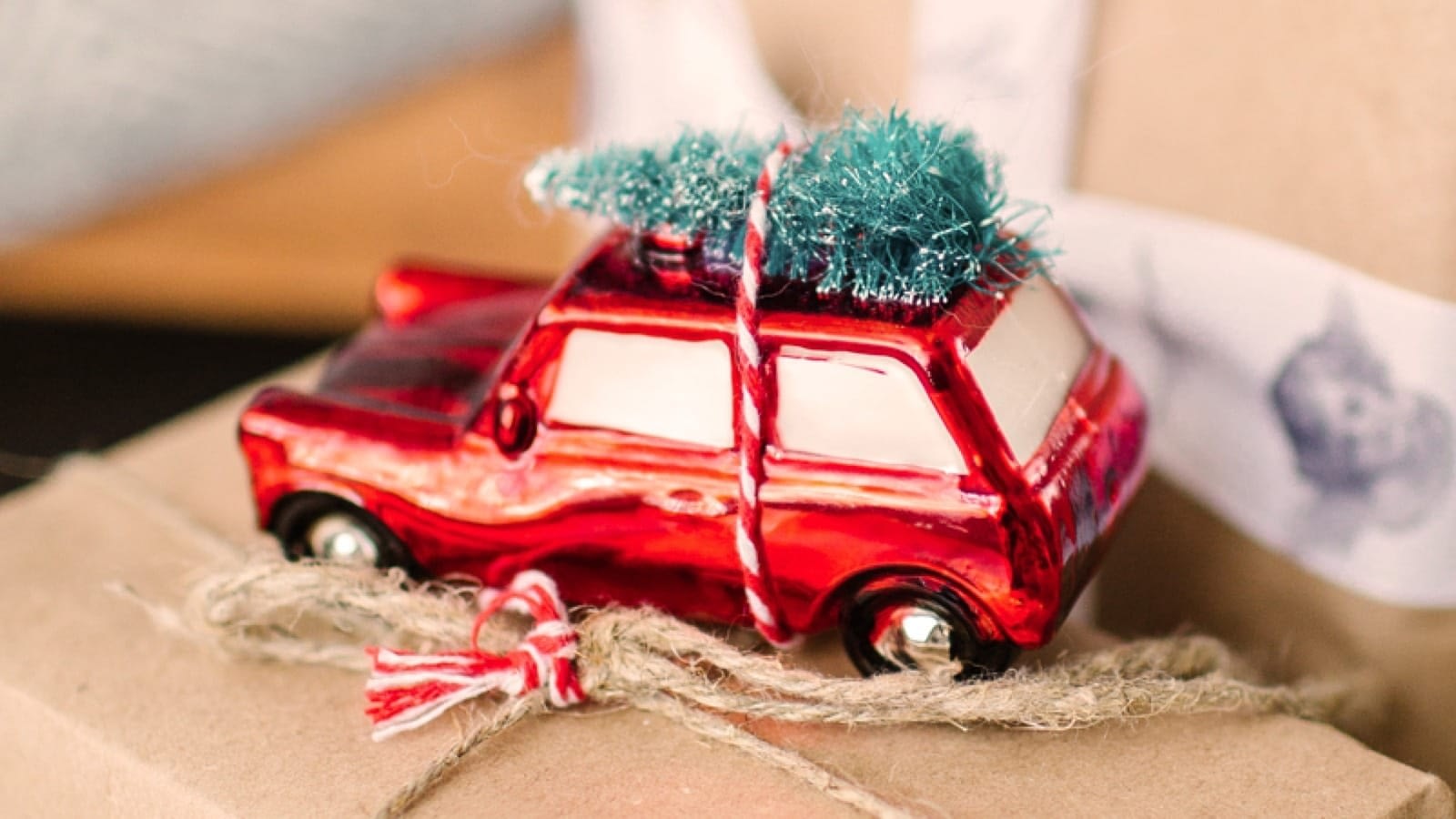 Car gift ideas for commuters
Wireless charger: These days, our smartphones are an essential piece of equipment – which can make keeping them fully charged a challenge. A charging pad for the car means they'll never have to think about plugging in a smartphone. Just place it in the console and the power flows automatically.
Drinkware: Cold brew is cool – unless you're prepared for piping hot. A vacuum-insulated travel mug will keep hot drinks hot (or cold drinks cold) for hours on end, making them the perfect accessory for any long commute.
Dash cam: Accidents happen. And if you're logging lots of miles behind the wheel each day, the likelihood of a fender bender is even higher. A dash cam easily mounts to the car's windshield and will record everything that happens from the moment you turn the key. This can provide important evidence in the event of an accident, especially during a hit-and-run.
Jump starter:Click-click-click…that dreaded sound means your battery's dead. You could call Emergency Roadside Service or ask a stranger for a jump start (assuming one of you has jumper cables). But the fastest, easiest and safest way is to use a battery jump starter. These portable booster packs feature a battery that's powerful enough to jump a car on its own. Best of all, new models by companies such as NOCO and Stanley are compact and won't break the bank.
Emergency kit: A well-stocked emergency kit is important for every driver. But this is especially true for those who spend a lot of time on the road. Buy a premade kit from your local auto parts store or assemble your own car emergency kit using these instructions.
Bluetooth receiver: Do you know someone with an older car that doesn't have Bluetooth capability? No problem! Just buy a Bluetooth receiver, plug it into the car's auxiliary power outlet (cigarette lighter), and they can play tunes wirelessly through the radio using the built-in FM transmitter.
Custom floor mats: During rain and snow, those carpet floor mats that come standard with your car can turn into a wet, filthy mess. Universal all-weather floor mats provide a step up. But for the best protection, consider a more custom solution. You can buy rubberized floor mats designed to fit perfectly in any vehicle from companies like WeatherTech or the vehicle's manufacturer.
Phone mount: Cell phone use is by far the top cause of distracted driving. Help keep their eyes on the road with a dash- or windshield-mounted phone holder. A mount will make for safer driving when using key smartphone features, like GPS navigation – but remember, always keep your hands on the wheel and eyes on the road.
Audiobooks: Know someone who wants to make more time for reading? Help them use all that commuting time to their advantage. It's easy to play an audiobook from your smartphone and listen to it during a drive. To satisfy their inner bookworm, consider a gift card to Amazon or a subscription to a service like Audible.
Music subscriptions: After hours in the car, you can get tired of the same old music. And if you're using a streaming service or listening to the radio, hearing the same ads on repeat is even worse. Buy a premium subscription to a streaming service like Pandora, Spotify, Amazon Music or Apple Music – or a subscription to SiriusXM satellite radio – to give the gift of ad-free music enjoyment.
Tire inflator: Low on air? A portable tire inflator will plug into their vehicle's power outlet and allow them to fill up anywhere, no gas station required.
Steering wheel desk: Working from the road can be tough. Improve the ergonomics of their mobile workplace with a desk that attaches to the steering wheel. It makes for a great place to send a few emails, or even eat lunch – while you're safely parked, of course.
Cute car accessories
Steering wheel cover: Add some extra style to their ride with a custom steering wheel cover to match their personality. (Think: leopard, Aztec, boho, or bling.) Or choose something soft and fuzzy to take the edge off that winter cold.
Headrest hangers: These specially designed hooks attach to the posts of a headrest, allowing them to hang nearly anything into the backseat. They work great for bags, purses or clothing.
Seat covers: Whether their car's seats are worn and stained, or they'd just like an added pop of color, seat covers can be a great solution. You can even buy a heated seat cover that plugs into the vehicle's auxiliary power outlet, if they drive a car that didn't come with factory-installed heated seats.
Interior lights: Brighten up the interior of any vehicle with LED lighting strips. These lights are designed to be mounted in the footwells of the car for better visibility. They're easy to install, and you can even customize the colors through a mobile app. (Just make sure the mood lighting doesn't distract you on the road.)
Glove box organizer: Do you know someone who struggles finding their registration and proof of insurance when they need it? A glove compartment organizer can help keep everything well sorted, so it's always there when they need it. (ERIE customer? Download the ERIE mobile app for access to your policy information at your fingertips.)
Seat belt pad: Wearing a seat belt can save your life in the event of an accident. But the shoulder straps can also get uncomfortable over long periods of time. A seat belt pad wraps around the shoulder strap to provide some needed relief. And they're available in tons of colors, materials and styles.
Funny car accessories
Key finder: Do you know someone who can never find their keys? A key finder, available from companies such as Tile, makes it easy to find those lost keys. Just activate the keychain alarm from a smartphone, and they'll save hours spent digging through couch cushions.
Model car: Shopping for someone whose dream car is an exotic Porsche, Ferrari or Lamborghini? You may not be able to get them a new ride, but you could make a joke out of buying a scaled-down version from Lego or Hot Wheels.
Hula dancer: Bring back some retro style with a vintage dashboard doll. Choose the classic hula dancer, or any number of other bobbleheads available. (Just don't let all that wiggling distract you from the road.)
Fuzzy dice: Speaking of retro, nothing screams 1950s car culture like a pair of fuzzy dice hanging from the rearview mirror.
Seat gap filler: Always losing things in the gap between the seat and the car's center console? Save them from searching that seemingly bottomless pit with a seat gap filler, like Drop Stop. Originally a Shark Tank invention, this car-related gift may seem ridiculous, but it can actually be quite helpful in the moment.
Trash can: From fast-food wrappers to disposable masks, car clutter can drive you crazy. For your messier friends and family, a mini trash can could incentivize them to keep things a little cleaner.
Bumper stickers: Bumper stickers are the original funny car accessory. With thousands to choose from, you're bound to find something that fits their personality – or leverages an inside joke.
Gift ideas for car enthusiasts
Code scanner: We've all experienced the dreaded "check engine" light. (Ignoring it made our list of 9 things to never do to your car.) Help them get to the bottom of why the light's on with a code scanner. Just plug it into the car's diagnostic port and use the scanner to pull the engine code. Newer versions can even connect to your phone for a more user-friendly experience.
Detailing kit: Help the car lover in your life keep their ride clean with a detailing kit. There are tons of kits available that include items such as car wash, wax, microfiber towels, glass cleaner and tire shine. Get more tips in our related article on how to clean and detail your car at home.
Driving gloves: For the serious driver, a pair of leather gloves can be a great gift. Though they're probably unnecessary for newer cars with power steering, they can still help them feel like their favorite racing driver.
Magazine subscription: Give them access to the latest news on what's going on in the car world with a subscription to an enthusiast magazine like Car and Driver, Road & Track or Motor Trend.
Driving shoes: Spirited driving in a car with a manual transmission can require some fancy footwork. Driving shoes, sold by companies like Piloti and Puma, offer a thin profile to improve pedal feel, with extra grip on the parts of the sole where it's needed most.
Tool kit: Having a small set of portable tools in your car can really help in a bind. This is an especially good gift for the car lover who loves wrenching on their own vehicle.
Driving experience: Let them live out their automotive fantasy by taking an exotic sports car around a local road course. Or pretend they're a NASCAR driver at the Richard Petty Driving Experience. A driving experience like this may only last a few hours, but they'll talk about it for years to come.
Tire pressure gauge: Running the right tire pressure at each corner of your vehicle can make a real difference in your car's performance. Help them get an exact reading with a digital tire pressure gauge.
Driving school: High performance driving schools aren't like that drivers ed course you took in high school. Instead of parallel parking, they can take their car to a local race track and learn how to improve their skills behind the wheel from a seasoned pro.
Gift ideas for pet lovers
Portable vacuum: We love our pets. But the hair they leave behind… not so much. Buy the pet lover in your life a small portable vacuum to keep in the car. It'll help clean up any hairball in an instant.
Seat protectors: A muddy day at the dog park can mean hours cleaning the back seat after the ride home. Pet seat protectors are designed to lay on top of the rear seat, creating a protective barrier that's easy to take out and wash.
Safety harness: You wear a seat belt in the car to keep you safe. Your pet should, too. There's a wide range of pet safety gear available on the market today, from harnesses and clips to leashes and carriers. Learn more in our guide on how to keep pets safe in cars.
Air freshener: Scooby smells sweet…until he gets wet. (Ugh.) Get rid of that dreaded wet dog smell with an air freshener or deodorizer designed specifically for pets.
Cargo liner: Does a pet frequently ride in the back of their crossover or SUV? A rubber cargo liner will keep any mess they create from damaging the vehicle. You can even purchase barriers to keep pets from jumping into the back seat.
Feel right at home
From your driver seat settings to the position of the steering wheel and your favorite station on the radio, your car is your safe haven on the road.
At ERIE, we want you to feel just as comfortable with your auto insurance coverage. We customize your protection and service, giving you exactly what you need and nothing you don't. Contact your local ERIE agent today to get a free, no-obligation auto insurance quote.
With the holidays quickly approaching, it's time to start thinking about the perfect gift for those special people in your life.
Looking for ideas? Here's our list of the top car-related gifts you can buy for your friends and family – from the commuting road warrior to the die-hard auto enthusiast, and everyone in between. (Of course, having the right auto insurance to protect your ride helps it go the distance, too.)