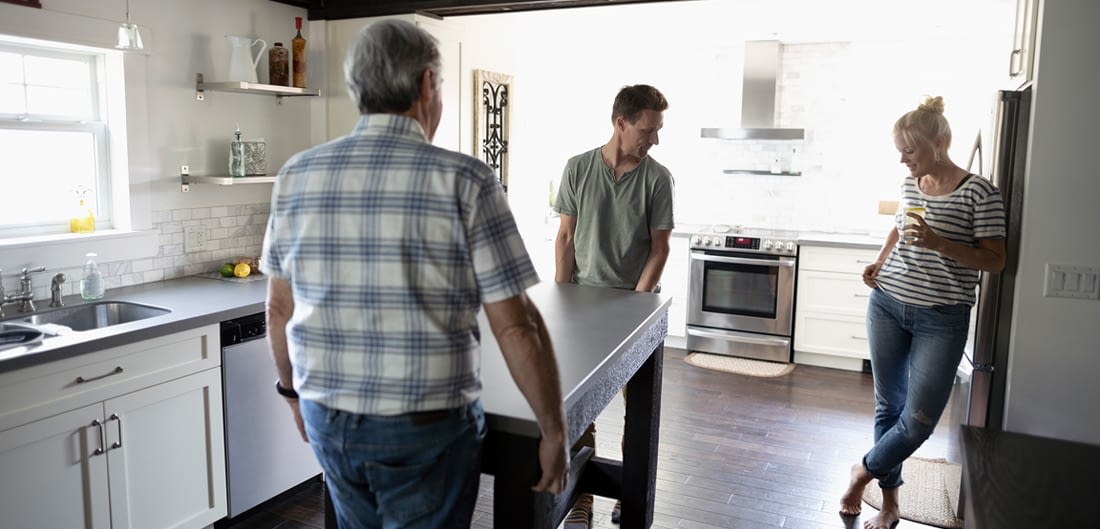 These stainless steel appliances show EVERY fingerprint!
Is that how much it'll cost to refinish our hardwood floors!?
I thought I'd love these granite countertops… but I'm so over them!
Ever experience a homebuyer's hangover? You're not alone. What seemed like a great feature during that walk-through gradually loses its sparkle when you're living with it every day.
Our latest national survey asked 500 U.S. homeowners what they would – and wouldn't – choose again if they were buying a home today.
Here's what we found out.
WHAT DO HOMEOWNERS REGRET MOST?
By a slight margin, the majority of homeowners said they wouldn't change anything. More than half of U.S. homeowners (53%) said they're happy with the features they chose. The rest (47%), however, admitted to some regrets.
Infographic: See More Results From Our Homeowner Hindsight Survey
The survey asked homeowners about features they wanted and got when they bought their home, but wouldn't get again if they were buying a home today. It also asked about features homeowners did not get but now wish they had.
Overall, homeowners are much more likely to regret not having something than getting it. For example, when asked what they wouldn't get again, the biggest percentage (9%) of survey respondents said they'd pass on hardwood floors.
However, when asked about what features top their wish list for their next home – a much larger percentage (16%) say they wished they had gotten hardwood floors.
Below are the top five features homeowners wanted and got, but would not choose again:
| | |
| --- | --- |
| Feature | Percentage of homeowners who would not choose it again |
| 1. Hardwood flooring | 9.2% |
| 2. Granite countertops | 7.8% |
| 3. Stainless steel appliances | 7.6% |
| 4. Fireplace | 7.4% |
| 5. Deck | 7.2% |
Features like fireplaces and decks add character, but they also require routine upkeep and cleaning. Learn more about why you need to schedule an annual chimney inspection or how to get your deck ready for summer.
GRANITE COUNTERTOPS: A ROCKY RELATIONSHIP
The granite always gleams brighter when it's in someone else's house – at least according to our survey.
Granite countertops were second on the list of features homeowners wanted and got but wouldn't choose again, with nearly 8% of homeowners saying they regret it. Curiously, more than twice as many homeowners (18%) without granite countertops said this feature is a must-have for their next home.
Is granite right for you? It's a big investment that can last for decades – for better or for worse. Learn more in our blog post about the pros and cons of granite countertops.
OTHER SURPRISING FINDINGS
So, let's dig deeper into those regrets. Why did homeowners say they wouldn't get a certain feature again? Here are a few explanations we heard through the survey:
Feature isn't worth the money
It's outdated
Just tired of it
Too hard to keep clean (white kitchen cabinets, whirlpool tubs, and stainless steel appliances were big culprits here)
Some homeowners even regret getting plush features people might assume everyone would want, such as two sinks in the master bathroom. Four percent of homeowners said they regret that layout, saying they just don't need or use separate sinks. A few respondents added that they'd prefer to have more countertop or cupboard space.
SO, WHAT TOPS THE WISH LIST?
In terms of features homeowners regret not getting, a walk-in pantry topped the list, with just under a third (30%) saying they wish they had one.
A fair number of people regret not getting green features in their homes, such as tankless water heaters (16% wish they had one) and solar panels (15%).
Related:  6 Reasons Why Water Heaters Fail
A few also wish they'd gotten a dedicated space to bathe Fido – 5% wish they had a dog washing station, though this feature is three times as coveted in the South as in the Northeast. A total of 7% of Southern homeowners regret not having a dog washing station, while only 2% of Northeasterners do.
Here are the top five features homeowners didn't get but wish they had:
| | |
| --- | --- |
| Feature | Percentage of homeowners who now wish they had it |
| 1. Walk-in pantry | 30.2% |
| 2. Granite countertops | 17.8% |
| 3. Kitchen island | 16.8% |
| 4. Tankless water heater | 16.4% |
| 5. Finished basement | 16.2% |
Want more home design inspo? Check out these other blog stories on 7 smart and stylish ideas for your mudroom or 8 easy and affordable ways to upgrade your kitchen.
THERE'S NO PLACE LIKE HOME, SO PROTECT IT WITH THE RIGHT INSURANCE
Regardless of how they feel about specific home features, an overwhelming number of people reported that they feel positively about their homes as a whole. In fact, 94.6% of homeowners said they like or love their home just as it is.
"It's heartwarming to see that the vast majority of people have very positive feelings about their homes," said Bob Buckel, vice president and product manager at Erie Insurance. "It feels good to know that we're protecting something that really matters to them."
The survey also asked questions to gauge people's knowledge about their homeowners insurance. Do they understand how their coverage works and what they need?
"One of the most important coverages a homeowner can have is what's called 'guaranteed replacement cost,' which would pay to replace a home regardless of what it would cost in today's dollars," Buckel said. "Unfortunately, more than four in 10 homeowners say they don't know whether their policy has this coverage or not. That tells us that we, and the industry at large, need to do a better job of educating consumers about the important coverages that are available to them."
At ERIE, every homeowners insurance policy comes with a local agent who's there to help you understand and feel confident about your policy. And, yes – we offer 100% guaranteed replacement cost* for worry-free coverage that protects you without surprises.
Contact your local agent to request a quote and get the conversation started.
Methodology: This survey of 500 U.S. homeowners ages 28 – 60 was conducted by Falls Communications on behalf of Erie Insurance from March 22 through March 26, 2019. While different sample sizes have different statistical margins of error, the estimated margin of error for any question with a sample size of 500 is +/-4.5%. Additional survey results, including breakdowns by age, gender, and geographic region, are available upon request.
*Guaranteed Replacement Cost applies to dwelling and requires home improvements over $5,000 to be reported within 90 days – not available with all policies and in all states. Coverage of costs to comply with laws or ordinances is subject to limits. Depreciation will be deducted until repair or replacement is made. Talk to an ERIE agent for more information.